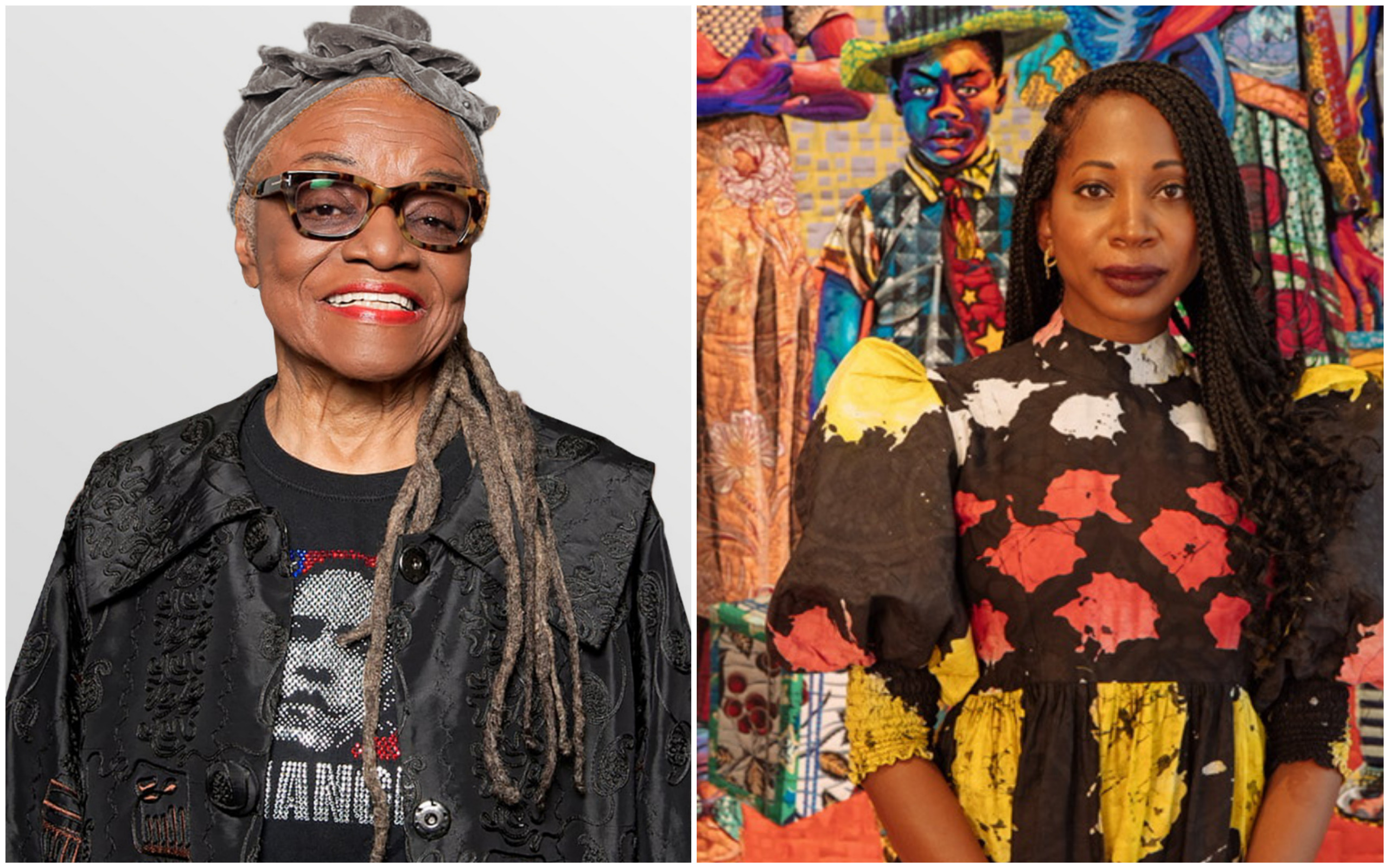 American Folk Art Museum to Honor Artists Faith Ringgold, Bisa Butler and Brian Donnelly (KAWS) at 60th Anniversary Gala
THREE OF THE most creative and relevant artists working today will be honored by the American Folk Art Museum (AFAM). The museum pays tribute Faith Ringgold, Bisa Butler, and Brian Donnelly (aka KAWS) at its 60th Anniversary Benefit Gala at Gotham Hall in New York City on April 7.
AFAM describes itself as the leading institution "shaping the understanding and appreciation of popular and self-taught art across time and space". The gala benefits museum exhibits, educational programming and internships.

Left to right, Faith Ringgold. | © 2022 Faith Ringgold, courtesy of ACA Galleries, New York; Bisa Butler. | Photo by Gioncarlo Valentine
"At 60, we are proud to celebrate our anniversary by paying tribute to three of the most creative artists of our time," said Jason T. Busch, Director and CEO of AFAM. "Innovative, iconic and inspiring, each has had a distinct impact in the United States and abroad."
The winners are spread over three generations. Ringgold and Butler are known for their innovative work with textiles. Both artists live in New Jersey and have worked as teachers to support their practices.
Butler, who translates photographs into collage portraits made with a range of fabrics, was recently named Gordon Parks Fellow in Art 2022. She typically works with vintage images to make her contemporary portraits. The works focus on representation and storytelling, exploring American life through the lens of the African American experience.
"Innovative, iconic and inspiring, each [artist] had a distinct impact in the United States and abroad. — Director and CEO Jason T. Busch
A pioneering artist and activist, Ringgold was among the artists who influenced Butler. A practitioner for over six decades, Ringgold addresses issues of race and gender, American democracy, and has also explored her own biography. She works in a variety of mediums, from paintings and prints to dolls, and works on mixed fabrics.
Ringgold began making tankas in the 1970s, made its first painted quilt in 1980, and delved into quilts with written stories in 1983. York Feb. 17.
New York-based Donnelly (right) is a member of AFAM's board of directors. "Martha and Mary" (c. 1931-1937) by William Edmonson, thought long lost and recently rediscovered, is now a promised gift from Donnelly. The sculpture is among the highlights featured in "Multitudes", the museum's 60th anniversary exhibition, showcasing around 400 works from its collection.
"The American Folk Art Museum has been a safe haven for foreign artists and folk artists for years," Butler said. "It's a place to see American craftsmanship in a museum and know that the art is respected." CT
IMAGE: Top right, Brian Donnelly (KAWS). | Photo by Nils Muller
LEARN MORE about the "discovery" of "Martha and Mary" in the front yard of a home in St. Louis, Mo.
MORE about artist Brian Donnelly (KAWS) in the New York Times
BOOKSHELF
"Bisa Butler: Portraits" documents Bisa Butler's first solo exhibition in a museum. Butler's work is also featured in the exhibition catalog "Fabric of a Nation: American Quilt Stories". Serpentine Galleries has published a catalog to accompany 'Faith Ringgold'. Glenstone, where the exhibit made its U.S. debut in Potomac, Maryland, produced an expanded version of the catalog. Faith Ringgold's early activism is documented in Susan E. Cahan's book, "Mounting Frustration: The Art Museum in the Age of Black Power." Also consider "Dancing in the Louvre: The French Collection of Faith Ringgold and Other History Quilts," which documents an exhibition of the same name and was the first publication dedicated to her quilt works. "Faith Ringgold: Die" provides the backdrop to Ringgold's fascinating painting "American People #20: Die" (1967), which was acquired by the Museum of Modern Art in 2016. A number of publications explore the work of KAWS, including "KAWS: What Party", recently published by Phaidon.
TYPE OF SUPPORTING CULTURE
Do you like and appreciate the type of culture? Please consider supporting its ongoing production by making a donation. Culture Type is an independent art history project that requires countless hours and expenses to research, report, write and produce. To help support it, make a one-time donation or sign up for a recurring monthly contribution. It just takes a minute. Thank you very much for your support.