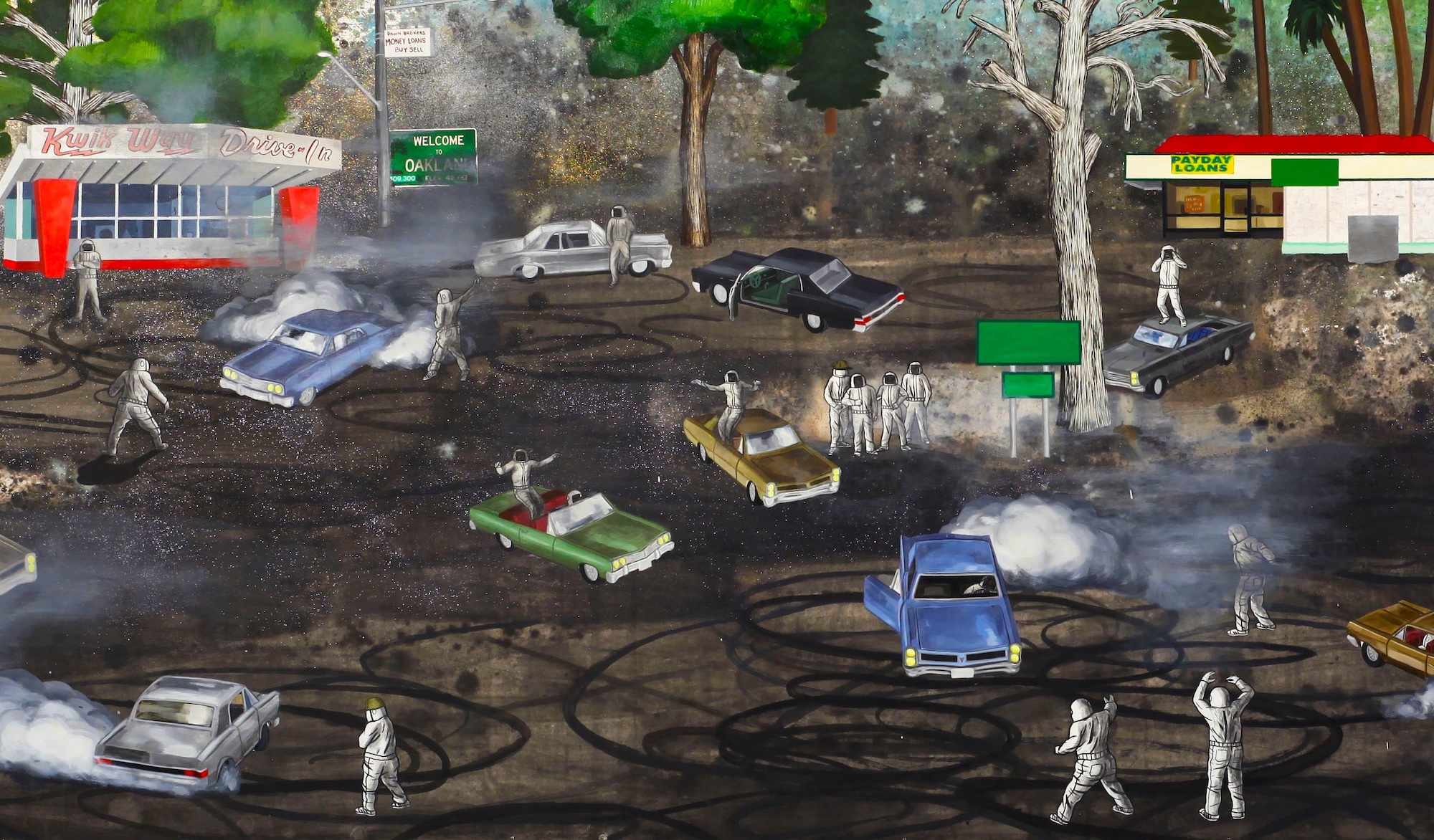 At MoAD, spring brings phantom 'traumanauts', striking tapestries and haunting elegies
There was something fortuitous about attending this press preview two days after the infamous "slap seen" around the "Oscar" world. Just as already written about it featuring two black men in front of a mostly white audience. After three decades as Hollywood's joviest ghostwriter, Will Smith is now being ostracized by the very people who gave him their highest honor. Somehow Hollywood suddenly remembered that Will Smith was black. Roman Polanski still has his rewards.
This gray area of ​​acceptance and risk is one of many minefields of black identity in the African Diaspora Museum's new spring-summer programming. It has been two years since the MoAD closed due to COVID, delaying the appearance of many of the very facilities now featured. After a slow reopening last October, the Museum's return to good form finds itself in a world where black voices are still massively ignored.
After the OK vaccine check at the door (no QR code is scanned), the first facility greets the customer so subtly that one would be forgiven for missing it. Sam Vernon's "Impasse of Desires" (2020, curated by Elena Gross, until September 18) is, according to Vernon herself, "a direct response to and activation of the first floor gallery and hallway space of the MoAD". It hangs above the MoAD lobby as a collection of almost invisible mosaics on transparent textiles that flutter like UN flags. The images on the tapestries mostly show black figures on cutout backgrounds (although one is a rose against a chain-link fence, reminiscent of 2Pac's poem "The Rose That Sprouted from Concrete").
Indeed, textiles make a nice addition to the otherwise sterile MoAD lobby, but their effect can be as seamless as the images themselves. Inspired by Matt Richardson's book The queer limit of black memoryVernon's installation works better as decoration than as a bold statement, without the punch of the collages and drawings seen on his own website.
Heading to the second floor living room puts one among another wire-based installation. "The Threads that Bind" (also hosted by Gross, through June 12), is – as artist-teacher Cynthia Aurora Branvall has said – the result of being raised in "a family of professional sewers ". Some tapestries (Continents, 2014-16) feature finely knit collars from the pre-war era stretched to imperfect lines on canvas. Other works feature "19th Century Blouse[s treated in] beeswax, damar, [and] resin" to retain their shape as if actively worn.
In the same way, Little Girls, Birmingham (2020-21) characteristics affecting resin necklaces that replace girls killed in the terrorist attack at 16th Street Baptist Church in 1963. The titular coin (The threads that bind a nation2020) recalls the first, with fabrics fashioned in the United States, divided in two between the traditional "north" and "south".
Even without reading Branvall's accompanying text, his pieces are striking. The threads are cotton, intricately embroidered by hand, worn by women whose likeness can almost be made out if one looks at the carvings long enough. The stories they tell are often missing in such a divided United States as the main room illustrates. As Branvall herself said at the preview I attended, black artists are "filling the gaps" left by the emptiness of these missing stories.
In the gallery section, we walk among the work of David Huffman from the Bay Area in "Terra Incognita" (co-curated by Gross and Emily Kuhlmann, until September 18). Huffman describes himself as "one of the first Afro-futurist artists" and his "Traumanauts" act as extraterrestrial visitors to their own homeland. This includes a short film (Traumanaut Tree Hugger, 2011) in which the main character succeeds by wrapping his arms around various redwoods while Lynchian music and humming sounds play (although there were some sound issues during the preview). The character does this in a spacesuit that's on display in the gallery, a Huffman says NASA created at his request.
The other pieces (and there are many) use Huffman's simplified drawing style for an appropriate mirror view of race and rural America. The wall triptych Katrina, Katrina, girl you're on my mind (2006) has the Traumanauts atop various New Orleans homes and businesses flooded by hurricane waters that appear as an all-encompassing gray void. Attraction transports them to Oakland, where the gray is the smoke from the skid marks made by one of the city's most infamous pasts. Surrounding the gallery are Huffman's Gigantor-esque sculptures with golliwog-esque faces.
It all makes for an engaging spectacle by an Oakland-based black artist who not only remembers the heyday of the civil rights movement, but has absorbed as many pop culture ephemera as his white peers – ephemera that rarely exhibited black faces. At the preview I attended, Huffman openly lamented that "black artists weren't allowed to nuance" into the mainstream. It makes sense that his work seeks to cover as many bases as possible with the materials available to him. Political position does not disappear with entertainment, the two are symbiotic.
The third floor takes us through "Elegies: still lifes in contemporary art". Organized by Monique Long (until August 21), it is "a collective exhibition bringing together an international group of artists who have upset or extended the traditional presentation of still lifes". Headliners include Rashaad Newsome's The art of immortality (2019), a collage of diamond jewelry resembling a vase of flowers, Black Mouths in Place of Pollen, claims a message of materialism that is mirrored in that of Sadie Barnette birthday flowers (2020), featuring Swarovski crystals used as dew or sparkles in a photo of faded pink roses.
However, the photos and paintings along the walls must leave all their place to the work of Devan Shimoyama. For Tamir VII and VII (both 2019). Each consists of metal swings adorned with flowers (one accented with diamonds, the other with angel wings), a haunting reminder of childhood swept away because someone refused to look at a black child with the nuance mentioned by Huffman.
I found myself pondering the 'nuance' statement after my first visit to the MoAD in years. He never got the patron numbers for SF's other "Mo" house, but it's to MoAD's credit that the work was worth the two-year wait; it is to the shame of the world that the problems presented have only gotten worse since, in the words of Cynthia Branvall that day. Its necessity is more apparent than ever.
The various exhibits run through many dates (listed above) at the African Diaspora Museum in San Francisco. Tickets and information here.