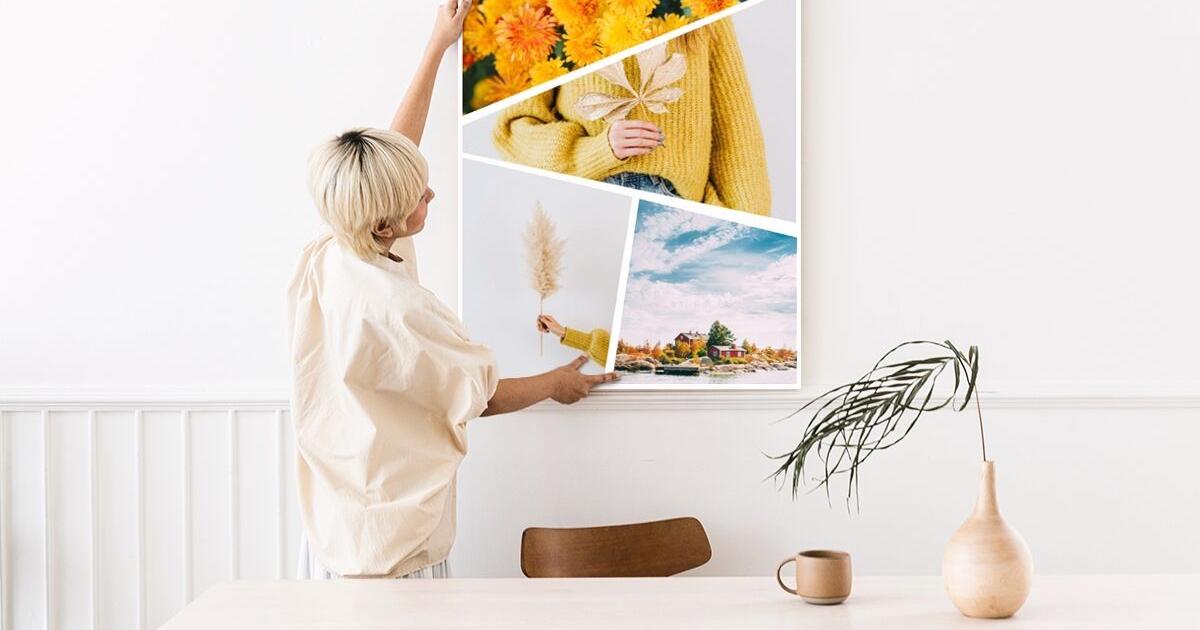 Candles, cardigans, canvas prints – Organized Fall | Highlighted
When it comes to sprucing up your home, there's hardly a better time to do it than in the fall. As the days get shorter and we spend more time indoors, it's natural for us to find a new appreciation for our living space and look for ways to improve it.
And there's a new addition to the list of interior design essentials for fall 2022: canvas prints. Read on to find out how you can use them to create a fall-inspired room.
How to Enjoy Fall Without Getting Wet
Nature is rarely more beautiful than in autumn. But the weather at this time of year can be a little unpredictable, to say the least, so many of us end up watching the dramatic scenes from the comfort of our living rooms.
Luckily, there's a great way to feel right in the middle of nature's fall grandeur without getting soaked.
If you have a great photo that perfectly showcases the russet and brick palette of this magical time of year, you can have it printed as personalized wall art – and we recommend canvas prints as the perfect format.
Autumn is synonymous with warmth and comfort. Pumpkin spice lattes, knitted cardigans, checks, scented candles – you'll have your own favorites. And an autumn-themed canvas print on your living room wall fits perfectly here.
Create the Right Mood with Framed Photos
Canvas prints aren't the only fall-friendly wall decor solution. You can create a wonderfully cozy ambiance by hanging a framed picture display one of your favorite fall photos.
Framed photos take a slightly more traditional approach to wall art printing, but they can still be the perfect addition to evenings spent wrapped in a blanket and gorging on a guilty pleasure Netflix series.
There are many respected online print providers who will reproduce your images on premium photo paper, display them in a decorative frame (ideally with a classic pure white mat to show off and protect the photos), and then will deliver them right to your door. But note that prices can vary widely, so try to find a budget provider that won't cut corners on print performance.
Design your fall gallery
And your fall-themed photo exhibit is by no means limited to just one print. Have your photos printed on multiple pieces of wall art and you can showcase whatever you love most from the current season.
As well as doing wonders for the atmosphere of your living space, taking a positive approach to your interior design choices can boost your emotional well-being, keep you calm and help inspire you. . This is very important in the fall, as some of us tend to get the blues as the nights roll in.
So where can you find custom prints?
At this point, you may be wondering if we can recommend a custom print provider that will reproduce your favorite fall photo at an affordable price. Indeed, we can! CANVSDISCOUNT.com is a US-based custom printing service renowned for its affordable prices as well as the high quality of its products.
If you're looking for an online service that will take care of your personalized fall-themed prints without breaking the cash you've set aside for the holiday season, you'd be hard pressed to do better. With thousands of satisfied customers and an ever-expanding product catalog, CANVASDISCOUNT.com should be your go-to online store for home improvement and personalized gifts. Head over to their website, take a look at the amazing discounts they offer, and you'll be ready to create a warm and cozy fall atmosphere in your home within days!