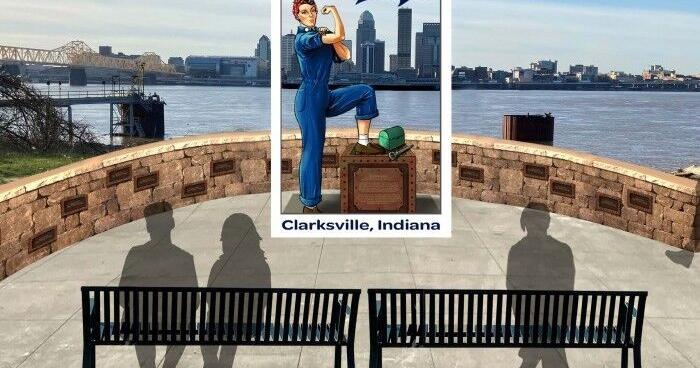 Clarksville art installation celebrating WWII women to be unveiled in September | New
LOUISVILLE, Ky. (WDRB) — The city of Clarksville will soon unveil an art installation celebrating the important role women played during World War II.
The "Rosie the Riveter" art installation will be unveiled Sept. 16 in Ashland Park by the Clarksville Historic Preservation Commission (HPC).
The commission said last year it was "long overdue" to celebrate the town's connection to Rose Will Monroe, aka "Rosie the Riveter".
Monroe was a riveter who helped build B24 bombers during the war. She was chosen to be in a documentary aimed at selling war bonds.
Since then, she has become a symbol of the "power of women and their contributions to the war effort here at home," the commission said in a press release Thursday.
"Rosie got married and moved here to Clarksville after the war was over," Clarksville HPC president Lynn Lewis said in March. "We felt it was high time to honor the legacy of one of Clarksville's most influential residents. We believe this monument will be a fitting tribute to his impact on our country.
The art installation was made possible by nearly $80,000 — roughly double the goal amount of $40,000 — raised through a crowdfunding campaign launched in March. It is created by the Weber Group of Sellersburg and should be installed "in the coming weeks" before the September inauguration.
The facility's unveiling ceremony will include historic music, Rosie lookalikes, a color guard and more, the commission said.
To learn more about the project, click here.
Related stories:
Copyright 2022 WDRB Media. All rights reserved.