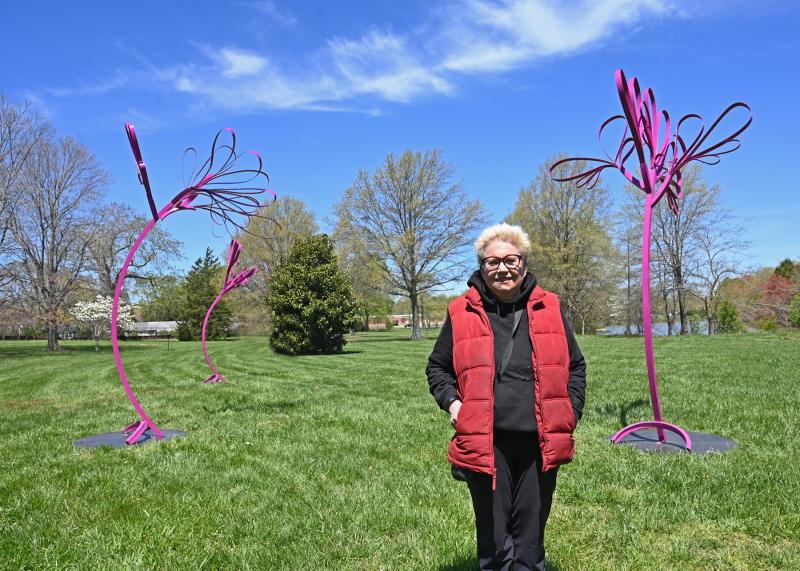 First of three public art projects installed in Lewes
Walkers, joggers and even those who got lost in George HP Smith Park will be greeted by Lewes' latest public art project.
Installed April 20, three pink aluminum sculptures part of artist Vivien Collens' Squirt series stand along the walking path around Blockhouse Pond near the new Lewes Elementary School.
Collens' work is the first of three public art projects set to come to Lewes this summer.
Collens primarily works with welded aluminum, which she has been doing since learning to weld in 2017 during a residency at Salem Art Works. Before that, she was a painter for many years.
She has two tendencies in her work – organic and geometric. "I always try to combine them," she said.
"Lewes Squirt", as she calls it, is made with hollow square tubing and a flat sheared aluminum plate.
"It's really made of geometric materials, but it looks organic," she said. "It's part of my process to try to unify my right and left brain in my works."
Lewes' pieces can be interpreted however the viewer wishes, she said, but to her they are a cross between trees and flowers.
Collens was born in Cleveland, Ohio. After earning a bachelor's degree from Carnegie Mellon University, she studied in San Miguel de Allende, Mexico for two years, earning a master's degree from the Allende Institute. She now resides in the Hudson Valley region of New York.
Lewes' second public art project this summer is "Absent Monuments" by artist Rose DeSiano. It will be installed on Thursday, April 28 at the Johnson Avenue end of George HP Smith Park. The Lewes Public Art Committee worked with the African American Heritage Commission to find art to honor Lewes' previous cultures.
On Tuesday, May 17, the third piece, a 3D photo collage titled "Lava and Leaves," by artist Letha Wilson, will be installed at Canalfront Park.
Public art committee chairman Cliff Diver said the town was creating a beautiful artistic loop through Lewes. In addition to this summer's three projects, Lewes has an eye-catching mural by artist Kyle Confehr along the Lewes-to-Georgetown Trail. Art in Bloom has also contributed to the Lewes art scene by installing mosaic murals on the Savannah Road drawbridge, the Silent Sentinels whirlpools at the trailhead near Lewes Library, and the menhaden fishing mural at the Beacon Motel.
Lewes' temporary art projects will remain on display until September.
"We're really interested in trying to promote the arts and the discussion of the arts," Diver said. "We had a lot of interesting dialogues with people; not necessarily agree that it's good art, but everyone enjoyed talking about it. It was a really positive experience. Art doesn't last long, so if you don't like it, you're not stuck with it.