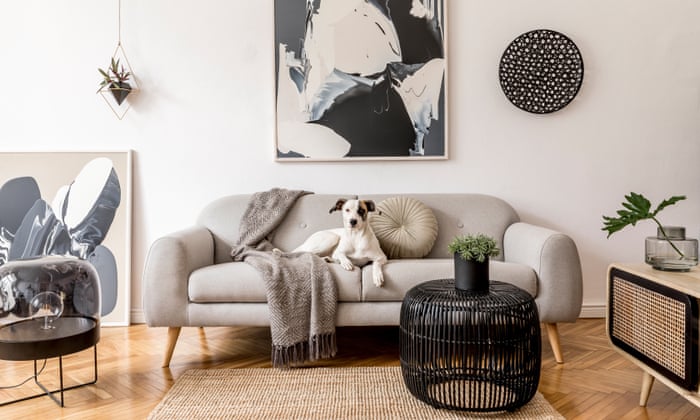 From posters and prints to frames and artwork: eight ways to bring art into your home | In my element
If your walls could talk, what would they say about you? Would they tell stories of paintings older than your ancestors? Or maybe your love for young designers and creatives. Maybe they don't say much at all, which means you need a little help in the illustration department.
As an interior stylist and writer, I'm often asked for advice on how to keep artwork and share my best places to buy it.
I consider my works as a representation of my personality and the things I have done in my life. From the slightly crumpled exhibition posters I grabbed at airports to the originals I've spent years saving up for, I see different people, places, and my own growth all on one wall.
Of course, there are different ways to build your own collection, from visiting art fairs to researching galleries. But eBay is a place where I've always looked for unique second-hand collectibles, and I recently discovered the multitude of upcoming artists who also sell on the site.
"We have a wide range of artists selling their original paintings and prints," says Amy Kent, senior category manager for art and antiques at eBay. "Not just artists who come from established art schools, but what I call 'hobby artists' – those who have a small business selling art alongside their daily work."
So where do you start to get the art you love from the store or from the display to your living room wall? Here's how to create a display-worthy home gallery…
get inspired
If you're not sure where to start with art in your home, let your creativity run free by putting together a few ideas. Online sites are full of design inspiration, and once you've picked out a few images you love, you can really focus on your art style.
Are you drawn to gallery walls? Do large format pieces make your heart beat a little faster? Take note of the colors you are passionate about, the mediums you are attracted to – the ones you can imagine in your home. It's not about directly copying these sources of inspiration, but rather about distinguishing the characteristics that bring you joy.
Choose a starting point
As in most households, chances are you already own a few works of art. You may have inherited them from relatives, picked up a piece from an exhibition, or simply purchased prints over the years, vowing to "hang them in your house forever." These pieces will help you know what's missing in your home, as well as the styles that already appeal to you.
"Curating a beautiful and interesting collection of art doesn't have to be expensive," says Lisa Dawson, interiors designer and author of Resourceful Living. "The idea is to hang what you love, and that can include anything that catches your eye: a vintage oil painting from the charity shop, a limited-edition print, an old family photo, or even a first date movie ticket."
If you're starting from scratch, Kent advises using eBay's Art Hub. "This will help you determine the type of art you want on your walls – paintings, prints, posters, canvases, drawings. You will have access to a huge inventory, from small businesses with their own shops eBay or customers selling direct from home.
Be up to it
While I wish hanging artwork was as easy as some online videos might make you think, it does require some precision and a tape measure handy – no snapping your fingers here, I'm afraid of it. You will need to know the measurements of the walls you are looking to fill and shop accordingly.
I recommend visualizing a piece on your wall either by using loose tape to mark the size of the artwork or by hanging pieces of colored paper. This trick works especially well for mapping gallery walls — where you hang multiple pieces — before you let go of your tools.
Mix and match mediums
A common faux pas of gallery walls is to hang works in the same style and color palette. Although it may seem striking in some cases, you have to be aware of the space and what you are trying to say with it.
"The juxtaposition of the different styles of artwork is what catches the eye and creates a focal point," Dawson explains. "Create your own art by framing maps of your favorite places, postcards you've collected, a drawing by your child, or maybe a tea towel that's too pretty not to be displayed."
These memorabilia and collectibles can be paired with prints and paintings for an eclectic look that suits any interior style. And for period pieces: "We have found that the market for 19th and early 20th century English paintings and portraits, as well as British and French impressionist paintings, is still strong," says Kent. "Some of these pieces are museum quality – take a look at Leighton Fine Art."
Find emerging artists
Art is often categorized as a way to invest, and keeping an eye out for emerging artists is the best way to discover pieces that have the potential to rise in both popularity and price. Kent recommends taking a look at the work of Vivek Mandalia, whom she "adores for its bold brushwork and prominent themes around beauty and nature", and Melanie Maynard, who "allows anyone to own an original work of art thanks to its economical prices". Jennifer Day, best known for her atmospheric abstract acrylic paintings, is also on Kent's hit list. Give them a follow on eBay to keep them on your radar and stay up to date with new work.
Don't forget the framing
Framing often seems as daunting as buying the artwork itself, especially considering the costs of some professional framers. While it may be a necessary requirement for some original pieces to ensure their longevity, you can easily source vintage frames online – or salvage entire works of art that can be reused. "Don't worry too much about mixing up the frames," Dawson says. "The alternation of different types of atmosphere allows each element to stand out in its own space."
Exhibits are a great opportunity to research ideas on how to set up a wall, and you'll often find some of the boldest looks there. A trip to the Royal Academy of Arts Summer Exhibition in central London will have your brain buzzing with concepts. Again, try the tape or tried-and-true paper method to see if your intended layouts work.
Think outside of print
While white walls are prevalent in galleries, it is possible to have fun within your own four walls. One of my favorite ways to make artwork stand out is to paint a block of color behind it, giving the illusion of a larger room.
Interior content designer Bianca Hall exemplifies the look perfectly in her own home, where she used a pink-painted square to frame a grid of Stella Vine prints. "It unites them visually, much like using a tray on a coffee table to store smaller items, making them less chaotic and much more effective."
you do yourself
Finding artwork is meant to be an enjoyable process; you should be able to look at your walls and see yourself reflected. Be creative with the process and don't try to copy someone else's style. Art is meant to be personal; it's your home and whether you want to paint your own frames, upcycle a vintage piece of art, or style a grid of family photos, that's your prerogative. Rules are made to be broken when it comes to art – that's the beauty of it.
Emma's eBay Art Edition
Some of these items are sold at auction, so listings may end at any time. If you like a missing piece, look for something similar at these sellers:
An abstract canvas by jenniferdayart – this affordable original will add a splash of color to the wall while bringing an extra element of depth and dimension through layers of paint strokes
An impressionistic oil painting of pink roses by vivek.contemporary – flowers that will always stay fresh. This oil painting will add a traditional touch, but has its own contemporary twist.
Contemporary strokes by emerging artists elliotminorart – exploring color themes, textures, materiality and painting process. This framed piece will tick all the boxes for color, pattern and texture.
A figurative watercolor from mjm-arts – changing the medium and size of your artwork helps add depth to a space. This A5 original is extremely cheap.
A colorful gouache signed by Manja Wang via leightonfinearts. Completely unique and will make a statement on the wall.
Unique interiors on eBay
Find artistic pieces that reflect your style, from original oils to modern prints. Buying Art on eBay