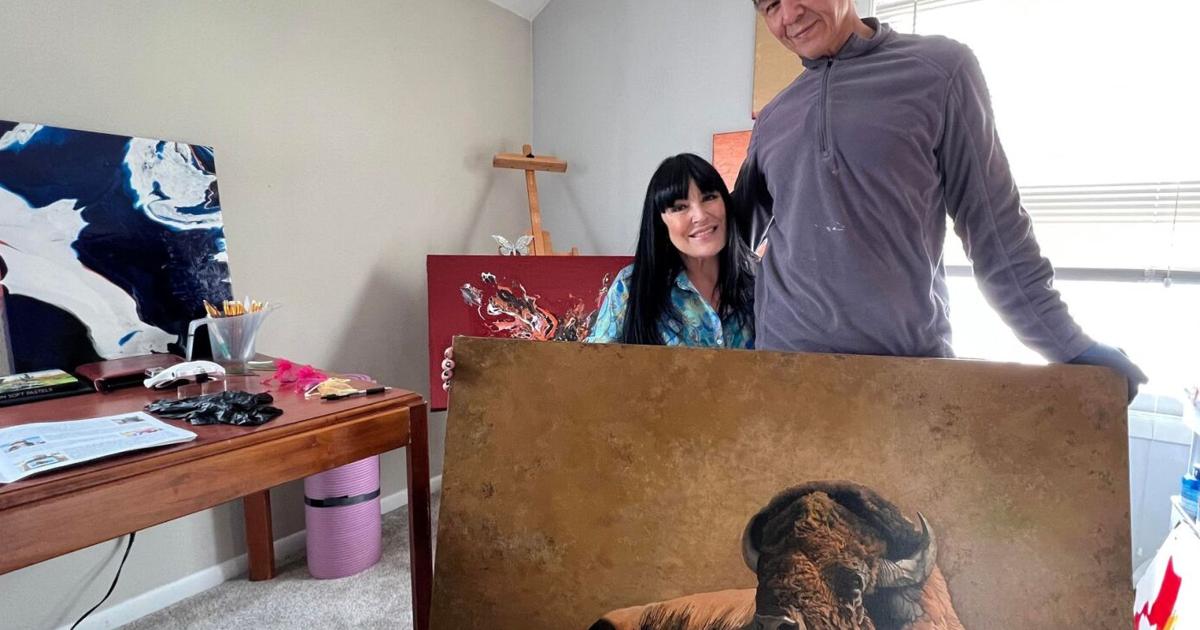 Local artists gear up for Western Art Week | ABC Fox Great Falls
GREAT FALLS, Mt. – Western Art Week is fast approaching and, while it turns the electric city into the world capital of Western art for a few days, it is also a time when art comes to life.
Edmond and Sonja Albert are husband and wife who share a love for art and they invited Montana Right Now to their home to see how they prepare for an art exhibition.
"Well, it starts at the end of your last show to be really honest with you. Literally the day after that show, I'm already setting a date for the next one and that's when it starts," Sonja said.
But before anyone picks up a brush, it smudges.
"We can't paint without it. It's every morning and every night we constantly smudge throughout our paintings. It's what gives us, it's who we are. It's what gives me the freedom to express myself. Whenever I feel tight and bound, I smudge," Sonja said.
For Edmond, he was born in Montana and raised on Hill 57 and in 2000 he began to pursue his dream of being a professional artist.
"You do your paintings all year round. I'm a little slower to paint than most, I like to take my, I like my details, I like everything from start to finish," Edmond said.
Edmond focuses on fine art and has participated in Western Art Week's must-attend event, the Russell Art Auction, about 10 times now.
He tells us he draws his inspiration from people and nature and was willing to give us a sneak peek at one of the paintings he's working on for Western Art Week.
For Sonja, she is a free flow artist.
"I connect with nature and beauty and just see things a little differently. I see things in a different way than most people. This is my interpretation of a monarch butterfly, it's been through It's still beautiful, windswept, in a beautiful sunset ready to go," Sonja said.
She uses bright colors to represent emotions in her work, last year focusing on blue, and this year it's a different color…
"You'll see me using a lot of reds and oranges. It's for our missing natives and for our children in residential schools. So that's where my feelings go this year," Sonja said.
This is the second year that she has taken part in Western Art Week.
"I live for art, music and family. And I feel like I have a family among these artists. I feel this sense of belonging, it finally came to me and I will never leave, I'm home," Sonja said.
While you might think that all that goes into preparing for a show is making sure the art is good, they tell me it's so much more than that.
"So a typical day is going to be constantly being done and photographed. By going and securing venues and having professional signs, lighting, we want to make sure we're bringing refreshments to people. We want people to know that they're appreciated. We share a part of our heart and soul with people, so that's important," Sonja said.
Sonja and Edmond are participating in the Celebration of Native Plains Artists and this show will take place at Montana ExpoPark from March 17-20, 2022.
For Sonja, part of the proceeds from her art work goes towards buying supplies as she helps with haircuts for the homeless in Great Falls.