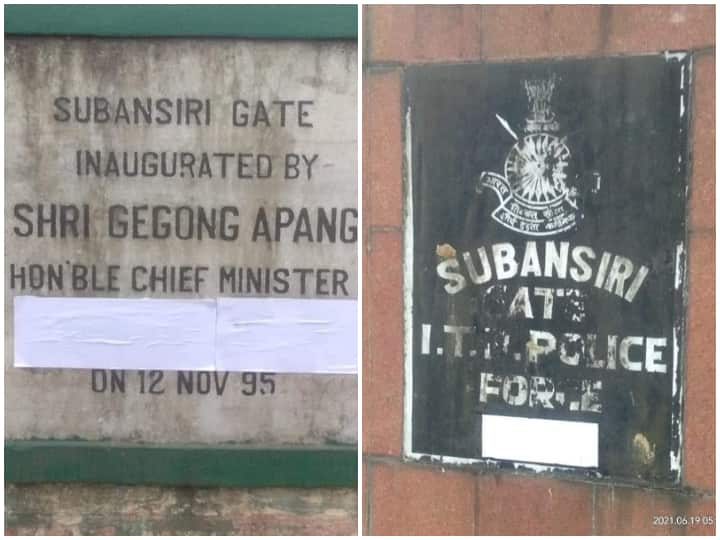 New row erupts in northeast over posters showing Arunachal town 'Kimin' as part of Assam
Itanagar: Assam is involved in a border conflict with Arunachal Pradesh. Protests have surfaced in the northeastern states of India after the Defense Ministry mentioned "Kimin" as part of Assam which actually belongs to Arunachal Pradesh.
Union Sports and Youth Minister Kiren Rijiju called the Border Roads Organization (BRO) howler to represent an administrative headquarters (Kimin) in Arunachal Pradesh as part of Assam as a "big mistake" and urgently needs to be corrected.
READ ALSO | Mamata was with the Darjeeling movement; But we are not in favor of any division: Dilip Ghosh
"A serious mistake was made by the BRO when inaugurating 11 new and old widened roads in Arunachal Pradesh by mentioning Kimin as Assam. The case was brought to my attention after the event and I immediately forwarded it to BRO for urgent rectification of an error which had occurred without the knowledge of the Minister of Defense and the government of Arunachal ", declared Rijiu in a social media post.
Indian Defense Minister Rajnath Singh's recent visit to Kimin, a town close to the Arunachal-Assam border, to inaugurate a 20 km-long two-lane road has rekindled further border tensions between the two states. Chief Minister Khandu called the case unfortunate on the part of the BRO.
"The government of Arunachal learned of the inauguration program quite late. Kimin's public officials later informed the government that signs displaying Arunachal's name and other mentions of the state were covered in white paste. Taking the matter seriously, I informed Defense Ministry Rijiju who was traveling with the Defense Minister at the time, "Khandu said, speaking to reporters on Monday.
Khandu said: "Even Defense Minister Singh never mentioned that Kimin was part of Assam in his speech and he was unhappy of the BRO to do so."
The chief minister said he had asked the local administration to look into the matter and resolve the "communication problem" with the concerned BRO chief engineer.
"I agree the BRO made a mistake, however, I call on people not to ignite the problem. We are determined to resolve this border dispute and will do our best, "Khandu said.
The Arunachal shares about 716 km of interstate border with Assam. After dedicating the 12 border roads built by the Border Roads Organization (BRO), Singh tweeted about his participation in "the inaugural function of the road projects built by BRO in the northeast."
A statement from his ministry suggested that the event took place in the Lakhimpur district of Assam. According to local media, several signs displaying Arunachal's name were covered with white paper.
Ahead of the event, Singh tweeted about his two-day visit to Assam where he was due to attend the "inaugural ceremony of some road projects in northeast India."
The Defense Ministry's decision angered residents, who then took to the streets to demand the immediate withdrawal of Kimin's ministry office and threatened to continue the protest.
The general secretary of the All Kimin Youth Welfare Association (AKYWA) alleged that presenting Kimin as part of Assam was a pre-planned decision and that it hurt the feelings of the locals. Other organizations, such as Kimin gram panchayat and All Nyishi Youth Association, also condemned the move. They questioned the silence of Arunachal Chief Minister Pema Khandu and Sports Minister Kiren Rijiju on the controversy.
The Defense Ministry was reacting to recent developments in which Kimin, an ADC headquarters in the Papum Pare district of Arunachal, was referenced by the BRO as part of Assam during the minister's visit to Rajnath Singh Defense in the city to inaugurate 12 border roads built by the organization.
Singh then tweeted about his participation in the program and shared a statement from his ministry suggesting that the event was taking place in Lakhimpur district, Assam.
"At an event in the Lakhimpur district of Assam, the Raksha Mantri inaugurated a 20 km long double-lane Kimin-Potin road, as well as nine other roads in Arunachal Pradesh and one in the Union Territories of Ladakh and Jammu and Kashmir. . The roads were built under BRO's 'Arunank', 'Vartak', 'Brahmank', 'Udayak', 'Himank' and 'Sampark' projects, "the statement said.
READ ALSO | BJP Malati MP Rava Roy appointed new national vice-president of BJP Mahila Morcha
AAPSU Arunachal Pradesh Student Union President Hawa Bagang told media: "We are not silent, we are just watching. Also, I thought I should send my team there. So I sent my GS. He will bring the report in the evening. On June 17th our Defense Minister Rajnath Singh came, CM of Assam came, CM of Arunachal came and honorable MPs also came. So it was planned. The Chief Engineer wrote a letter to DC Papum Pare on June 12 which clearly mentioned that a program was going to be organized in Belgarh, Assam but the program was being organized at RTC ITBP Kimin which is in Arunachal. The biggest problem is that all the Arunachal BRO brands have been spoiled. If they are so afraid of China, why has our Defense Ministry come here? This 20 km route which is at the border and covers 6 districts.
AAPSU All Arunachal Pradesh Students Union President Hawa Bagang strongly condemned the act of the Border Roads Organization where the town of Kimin of Arunachal was mentioned as part of Assam during the inauguration of twelve border roads by Union Defense Minister Rajnath Singh on June 17.
"That's a big question, why this was done. And my ruling is that we'll decide at tomorrow's meeting if the chief engineer doesn't send out a public apology, then anywhere in the world. Arunachal, cars or official BRO offices will be closed, Tawang or Bomdilla, everywhere. This is not a warning but a statement of reality. Second, the BRO camps in Kimin or Nalong or in the Assam region in name of the Arunachal, must be moved immediately. It is my request, that you, sitting at the border, cannot try to create a misunderstanding about Assam and Arunachal. You cannot lead people astray. Finally, the government or the administration of Arunachal can move this forward, it's decided, "said Hawa Bagang.
"So why is Arunachal's name stuck with white paper?" Our question is whether this is planned or an error? The AAPSU wants the chief engineer to apologize publicly. So we decided to conduct a CBI investigation into who did this and why? How can the name of the state disappear like this? If they're so scared, they shouldn't come here. We have a meeting tomorrow after which I want to house an FIR in Itanagar Thana. Assam's Belgarh was mentioned in national channels and in Chief Engineer BRO's letter. My question to Papum Pare DC is why he hasn't rectified it. Today we saw the CM's statement but on June 12 we had already been told about the June 17 program. Why haven't you rectified that? Why is the name of Arunachal not there? If they didn't want the name Arunachal then why is it called part of India. We are not afraid of China, so why are you? If you're so scared, you shouldn't have come, "added the AAPSU president.
Arunachal Pradesh shares its border with China and has been a hotspot for India since the Doklam stalemate in 2017. The stalemate erupted when China attempted to build a road in the region, and Indian troops s 'are opposed to it. China regards Arunachal Pradesh as part of Tibet and opposes any activity by India in the region.
A senior source in the forces said some disbelievers have made the most of the internal conflict between Assam and Arunachal and certainly know the details of the ongoing tensions on the Sino-Indian border. Even the ITBP posters and billboards were not spared. The truth must come out. "